Gaviti Customer Invoice Distribution: Seamlessly Connect, Streamline, and Deliver
Efficiently managing your invoicing process is crucial for maintaining strong customer relationships and optimizing cash flow. Gaviti works with any ERP system and seamlessly distributes your invoices to your customers through various channels.
Schedule a Demo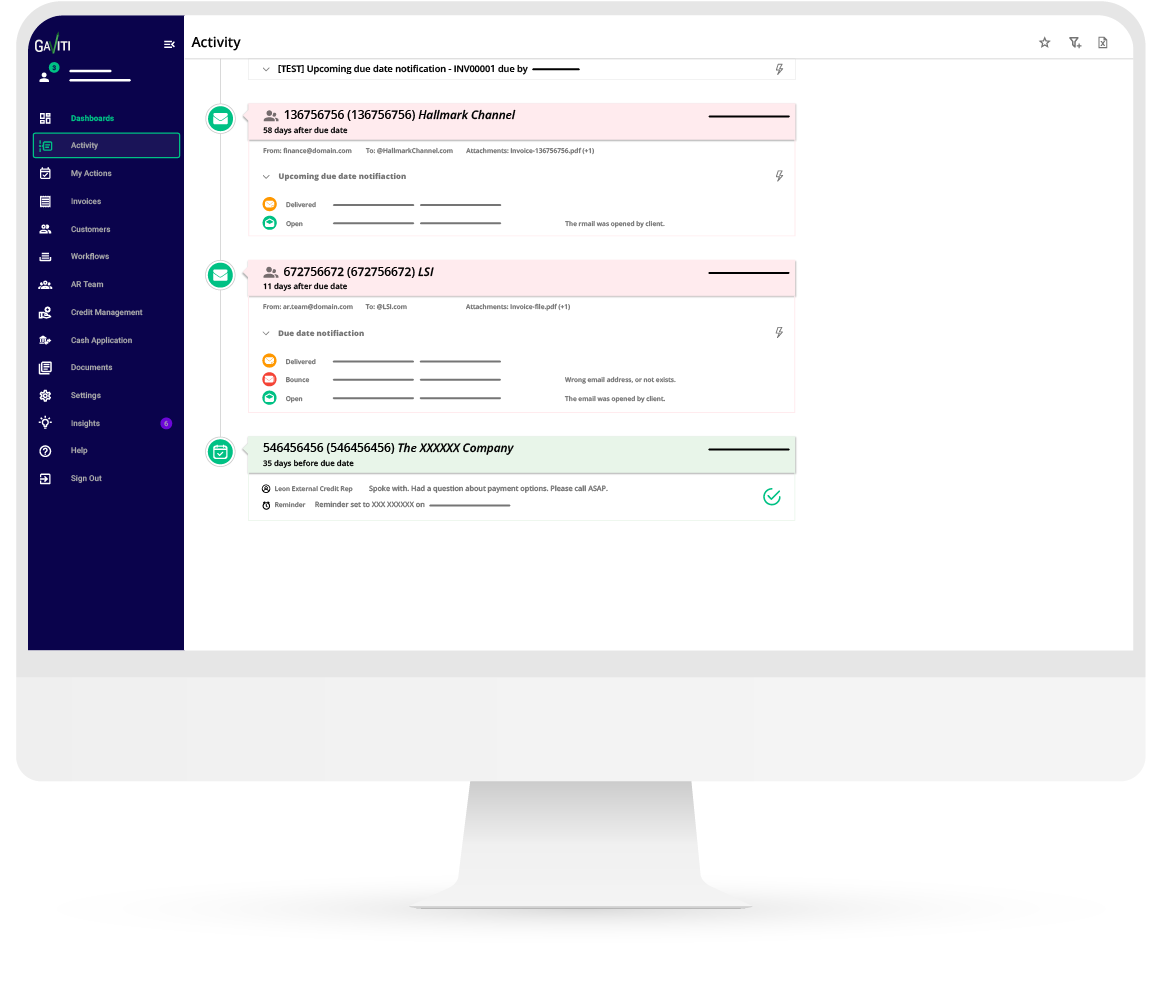 More About Gaviti Customer Invoicing:

ERP System Compatibility
Gaviti seamlessly works with any single or multiple ERP or business system, eliminating the need for manual data entry and reducing the risk of errors. Our platform pulls invoice data directly from your ERP, ensuring accuracy and data integrity throughout the invoicing process.
Automated Invoice Distribution
Say goodbye to time-consuming and error-prone manual invoice distribution. Gaviti automates the distribution of invoices to your customers through multiple channels, such as email, online portals, SMS, or even traditional mail. By leveraging the right communication channel, you enhance customer convenience and increase the likelihood of prompt payment.
Personalized Customer Experience
Tailor dunning emails with your company's branding, include relevant purchase details, and add personalized messages. By enhancing the professionalism and clarity of your invoices, you improve customer satisfaction and reduce invoice disputes.
Multiple Distribution Channels
We understand that every customer has their preferred communication channel. Gaviti empowers you to distribute invoices through various channels, allowing your customers to receive invoices in the way that is most convenient for them. Whether it's email, online portals, SMS or even traditional mail, we ensure that your invoices reach your customers effectively.
Timely Delivery and Notifications
Gaviti ensures timely delivery of invoices to your customers. You can schedule invoice delivery at specific intervals or trigger them based on predefined events, such as order fulfillment or project completion.
Efficient Invoice Management
Gaviti provides you with a centralized hub to manage your invoices effectively. Track invoice statuses, view payment histories, and generate reports to gain valuable insights into your invoicing performance. By streamlining your invoicing process, you can optimize cash flow and reduce administrative overhead.
Customer invoicing is more than just sending bills—it's an opportunity to enhance customer experience, improve payment efficiency, and strengthen your financial operations. With Gaviti, you can streamline your invoicing process, eliminate manual tasks, and deliver invoices with precision and professionalism.
Take the first step towards transforming your A/R collections process and schedule a demo today!