Collections Analytics: Gain Insights and Optimize Collections Performance
Get a comprehensive view of your accounts receivable (AR) and collections performance, make data-driven decisions and optimize your collections efforts. With a range of unique key performance indicators (KPIs) and advanced analytics, our solution enables you to optimize the effectiveness of your collections strategy.
Schedule a Demo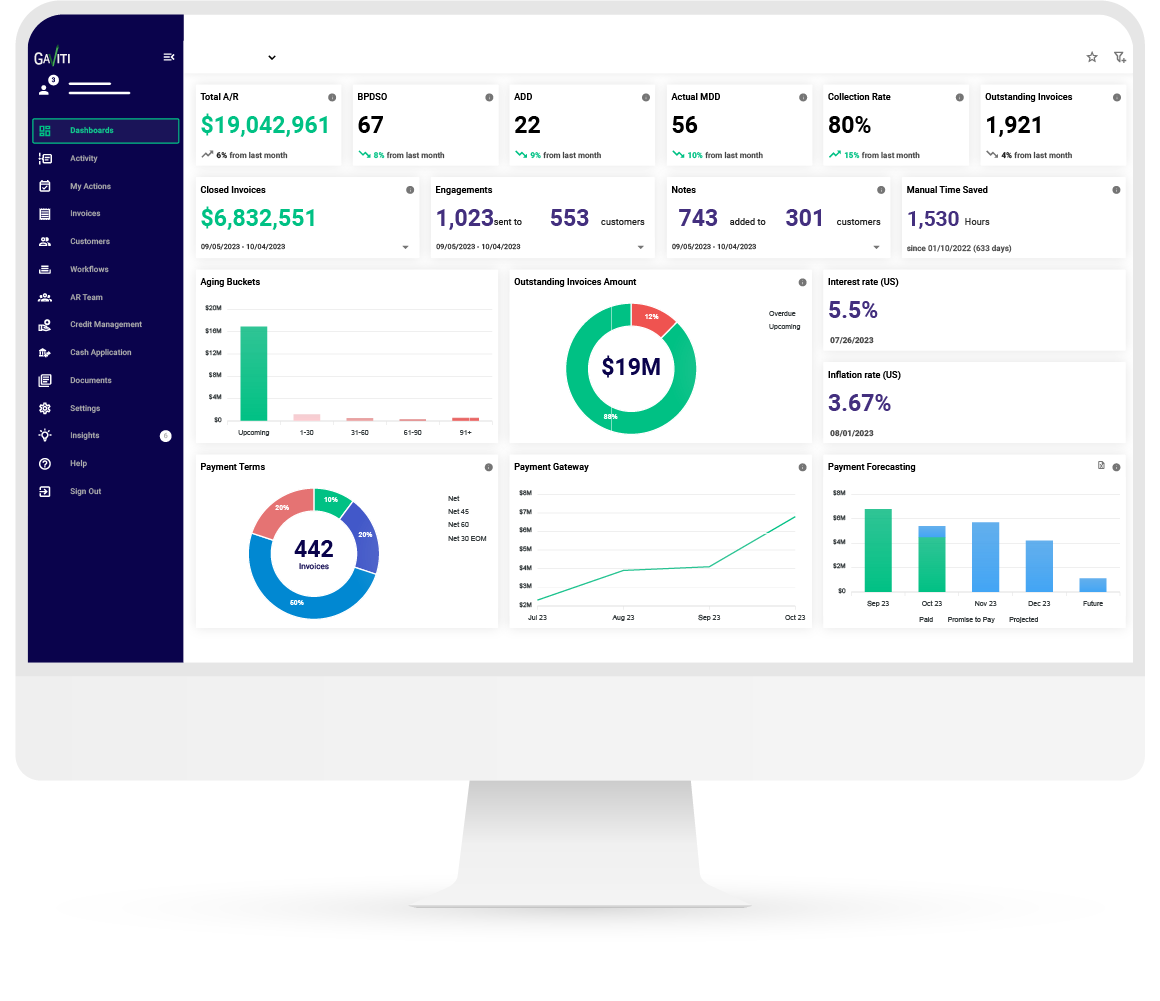 Here's how Collections Dashboard and Analytics adds value to your business:
Comprehensive Collections Dashboard
Gaviti offers a user-friendly and customizable collections dashboard that provides a holistic view of your AR and collections status. Gain real-time insights into critical metrics, KPIs, and trends that directly impact your cash flow. The dashboard allows you to monitor performance at a glance and focus on areas that require attention.
Key Performance Indicators (KPIs)
Our Collections Dashboard and Analytics solution tracks a range of unique KPIs to provide a more accurate picture of your collections performance. We provide a smart mix of KPIs ranging from the standard ones (Total A/R, DSO, Collections rate, customer risk, etc) to unique smart KPIs for better analysis. In addition we provide live external data such as interest and inflation rates.
Advanced Analytics and Reporting
Gaviti offers advanced analytics capabilities, allowing you to generate comprehensive reports, visualize data trends, and extract actionable insights. Analyze collections performance over time, identify bottlenecks in the process, and implement targeted improvements. Leverage data-driven decision-making to optimize collections strategies, reduce DSO, and improve cash flow.
Customizable Dashboards and Reports
Gaviti enables you to customize views, charts, and reports, empowering you to focus on the metrics and information that matter most to your collections team and management. Create personalized dashboards and reports to track performance against your unique goals and objectives.
Leverage the power of unique KPIs, advanced analytics, and customizable reporting to drive better financial outcomes and strengthen your collections strategy.
Take the first step towards transforming your A/R collections process and schedule a demo today!