A/R Management & Automation: Unleash the Power of Efficient Receivables Management
Managing your accounts receivable (A/R) effectively is essential for optimizing cash flow and maintaining healthy financial operations. With Gaviti, we bring you a comprehensive platform that provides a unified view of your A/R across a single or multiple ERPs, empowering you to define and automate collections actions with ease.
Schedule a Demo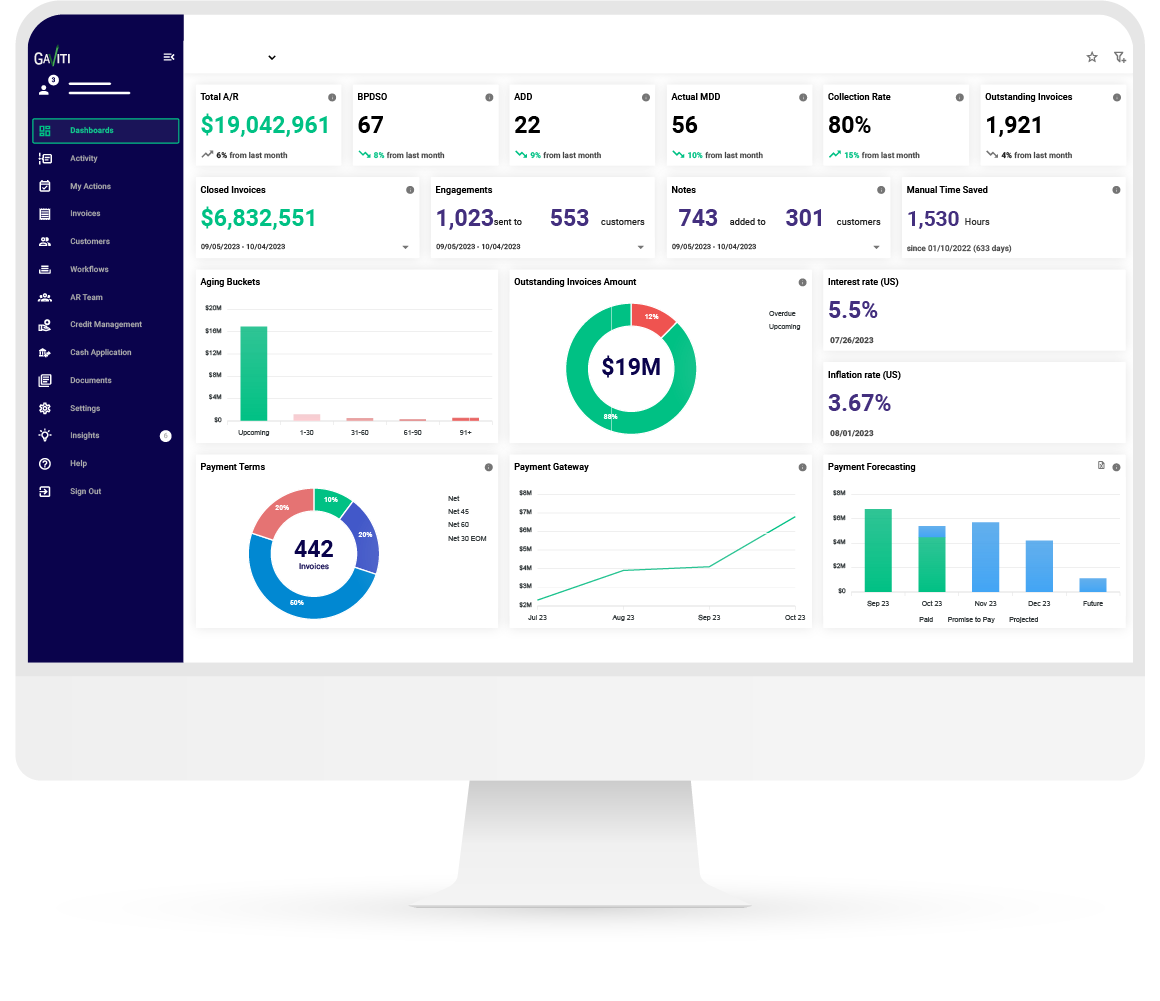 Here's how our A/R Collections solution adds value to your business:
Single View of A/R Performance
Gaviti works seamlessly with your ERP systems, consolidating your A/R data into a single, centralized view. With a unified view of your A/R, you gain real-time visibility into outstanding balances, customer payment history, and collections status.
Automated Collections Actions
Efficient collections require a proactive approach. Gaviti enables you to define and automate collections actions based on predefined criteria, such as due date, aging of invoices, payment history, or credit terms. Our platform automates reminders, internal or external escalations, and other collections actions, streamlining your collections process.
Intelligent Prioritization
Prioritizing collections efforts is crucial for maximizing recovery and minimizing bad debt. Gaviti leverages intelligent algorithms to prioritize collections activities based on factors such as payment history, customer creditworthiness, and the amount outstanding. By focusing on high-value and high-risk accounts, you optimize collections efforts and accelerate cash inflows.
Streamlined Customer Interactions
Gaviti provides a comprehensive system to capture and record customer interactions, including calls, emails, and notes. This information is readily accessible, empowering your collections team to have meaningful conversations with customers, resolve disputes, and build stronger relationships.
Read more about the Gaviti customer self service portal
Task Management and Workflow Automation
Efficiently managing collections tasks and workflows is crucial for staying on top of your receivables. Gaviti allows you to assign tasks, set due dates, and track progress, ensuring that collections activities are organized and executed in a timely manner. By automating repetitive tasks and streamlining workflows, you boost productivity and improve collections efficiency.
Customizable Collections Strategies
Every business has unique collections requirements. Gaviti offers flexibility in configuring collections strategies to align with your specific needs. Whether it's defining escalation rules, implementing skip-tracing processes, or tailoring collections communication templates, our platform allows you to customize collections strategies to maximize results.
Real-Time Reporting and Analytics
Gain actionable insights into your collections performance. Track key metrics, such as DSO (Days Sales Outstanding), collections efficiency, and aging analysis. Identify trends, bottlenecks, and areas for improvement, enabling data-driven decision-making and continuous optimization of your collections strategy.
At Gaviti, we believe that effective A/R management goes beyond simply tracking overdue payments. Our A/R Collections solution empowers you to streamline and automate collections actions, prioritize efforts, and enhance customer interactions.
Take the first step towards transforming your A/R collections process and schedule a demo today!